The course notes for SyP discuss portfolio reviews and one of the options detailed  is the gallerist Laura Noble. Noble established the Diemar/Noble Photography Gallery in London with photographic consultant Michael Diemar after working at the Photographers, Gallery.
She is quoted in the course notes for SyP :
The good thing about portfolio reviews is that it's bespoke to each individual. Photographers' backgrounds vary from MA/BA graduates or students to professionals wanting to alter their place within the industry, both self-taught and with academic qualifications. Often people ask for business advice or to advise on their editioning etc.
As a result I contacted her to arrange a portfolio review via Skype. In advance, I sent the updated portfolio PDF that I'd used in my earlier review with David Williams and prepared myself for some difficult feedback !
It was an interesting session and, much as she describes above, it was very individual – in fact it surprised me with its direction. I had expected a degree of analysis of the portfolio, much as I'd received from David Williams (see earlier post) but the only real comment that Laura made about the portfolio was: "They're beautiful photographs"
Now that was not the feedback that I was expecting!
Instead, Laura focused on other critical issues such as networking, the exhibition itself and my website which made it a very complementary session to my other review.
The early part of the review addressed networking, following on from her quote in the SyP notes:
"Networking is everything – I wish I'd had Twitter, Facebook, etc., when I was a student. Connecting with other people is key. It's amazing how quickly people connect. Everyone has a mutual friend in the photography world! Keep in touch with everyone – peers, colleagues. Everyone will keep crossing paths; this is also good for having group shows and collaborating to show you are active."
She emphasised the benefits of Twitter and Instagram for this purpose, explaining how to make the best use of the tools to create a broad network of interested parties. In particular, she described the "politics" of following and liking related groups that might not be directly related to photography but overlapped. For instance, my portfolio describes the virtual boundaries of Windsor Great Park but a group of dog walkers would have overlapping interests as would a more philosophical group interested in boundaries of any kind. She recommended the app Crowdfire to help with this function. Tweetfire was another recommend app to help manage the Twitter environment.
A website is an obvious mechanism for promoting one's work and Laura was dismayed at the fact that I had three fonts on my home page. Given that one was a logo rather than a font and the other two were very similar (I'd thought that they were the same as I hadn't looked closely enough 🙁 )  I didn't think that it was quite as bad as she described but, on the other hand, it's something that I need to correct. The logo is going and the other two fonts are now the same. In addition, I'd included some background material to my portfolio which was too complicated so is now much simpler.
The third element of the discussion was the exhibition itself and this, for me, was the most interesting section. We discussed options for presentation such as Ink Jet vs C Type (must be Ink Jet in Laura's opinion), framing and mounting (never use black frames), the location (seemed to be OK) but the interesting part was how to get the audience/viewers involved, how to create an extra layer to the experience to make it stand out.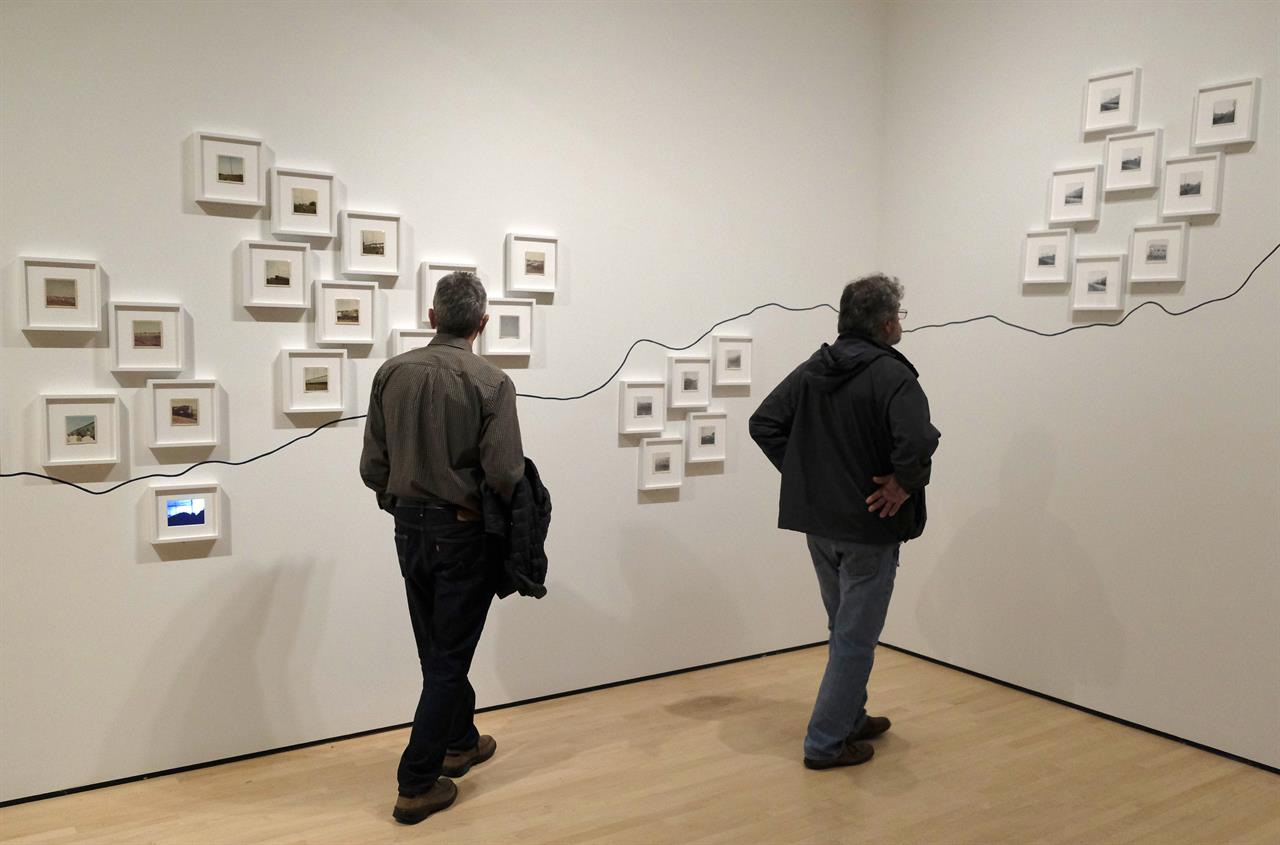 A simple, but effective, example was the exhibition of "The People's View" by Dutch artist Rein Jelle Terpstra that is part of the exhibit, "The Train: RFK's Last Journey,". In the image shown some of the images are arranged on the wall to show the location at which they were taken along the route.
We discussed how I might add a layer of interest and came up with a number of examples
1. display a map of the Park with pins available that could be stuck into the map to show people's favourite location
2. invite visitors to upload their favourite "off the beaten path" image of the Park to an Instagram account that could be displayed at the exhibition
3. Simply label each image with the distance, in metres, from the popular Tourism Space
etc, etc, etc
Throughout the review Laura used other photographers or their websites to illustrate some of her points and the most relevant of these were
In summary, it was a useful exercise, particularly the ideas on viewer interaction, adding a layer to the display, that was so complementary to my other feedvack.